What's New in Our World
August 9, 2022 Water Conservation: Everyone is enjoying this beautiful summer weather. We all strive for a flourished garden with alluring flowers surrounded by thick, plentiful grass. Unfortunately, with the heat being so unrelenting this task may "take a bite out of your wallet". It may sound preposterous but watering your lawn every other day for approximately 15-20 minutes in the early hours of the day is more profitable for your wallet and your lawn. Over watering your lawn may result in an abundance of unwanted weeds and cause suffocation to your roots which will proceed with stunted roots. If this occurs you will experience yellowing of your grass followed by a fungal build up. Stagnate water/moisture will eventually accumulate invasive insects that could eventually damage your garden and lawn. So with all this being said lets be diligent on our water use and enjoy the rest of the summer.
July 27,2022 Helpful Tips for Backflow Season : As a customer that is in need of your backflow assembly to be tested please make note to these few helpful hints to make next season go as planned. Always request a copy of your passing test, visually see that the assembly has been tagged properly with the testers name and date and verify with your tester that your test is going to be submitted to the proper water provider. Unfortunately there were a few testers that did not submit the tests into the proper provider and/or in a timely manner causing unnecessary tension on you as a customer.  With that being said, once again thank you for your diligence and patience with the backflow testing process. You are greatly appreciated.
July 21, 2022 BACKFLOW! The backflow season is coming to a bitter end. The District would like to take a moment and thank you all for the team work that was put forth to make this season run as smooth as possible. Backflow testing is so important to you, your family and neighbors. Always remember to use your sprinkler and irrigation systems with care. If you have any questions about your backflow tests please contact the office. We are always here to help in any way we can. Enjoy these beautiful warm sunny days ahead and remember to keep you and your land hydrated.
July 7th, 2022 Easement Obstructions/Blue Posts: The District is implementing the placement of your trees, bushes and such landscape be planted within the perimeters of the meter. A 10′ foot diameter of the meter is the requirement for the District. This is for the safety of our staff, the well being of your meter and to keep the structure of our water main secured. Ex: If a tree is planted within the diameter of the meter box eventually the roots will spread causing damage to your meter box and may cause you to be without water. Secondly, if an excursion occurs at your meter box this will uproot the tree making it more venerable to fall over, putting our staff at risk of injury. If you have a tree that is in the 5′ radius of the meter you will be asked to remove it. Please see the attached photo of the damage that will be caused to your meter by the roots of a tree.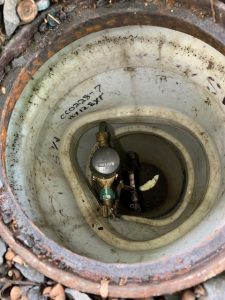 As you may have noticed, our technicians have been placing blue markers around the district. These can not be removed. These are placed to indicate where the water main is located. Sorry for any inconvenience but this is to help the District be more pro-active and time savvy on the location of our water main.
What do you say we talk backflow… Backflow testing is crucial to you, your family and neighbors. Although it may seem like a tedious task, it is beneficial to all in our community. June 30th is the deadline date to have your tests submitted to the District. If you do not submit a passing test by June 30th, and have had your test done, contact your tester. If you do not have your test done by the 30th, be expecting a letter  notifying you of the $15.00 fee  added to your account and informing you of when you must have the test done and submitted in order to avoid additional fees (door tag & lock off fees) and a disruption in service. The State of Idaho takes backflow testing seriously and it is a State mandated procedure. If you have any concerns or questions regarding the backflow process or need verification that your backflow test has been received, please contact the office.
Summer is in full bloom and we are experiencing warm summer weather. With that said, we need to be conscientious of our water usage. The District is still implementing odd-even watering days. Remember, the last number of your address indicates what day you should be watering. Minimizing your sprinkler use keeps more cash in your wallet. Smart sprinkler systems are always a good idea. They give you the ability to monitor your use and inform you when the system is running. Many new systems can even detect rain so you don't water when you don't need to. They new systems are definitely worth considering.
The new 2021 Drinking Water Quality Report is out and can be found on our website under the Announcement and Your Water tabs. Check it out and see how well your District is doing. We have included a link for your convenience. We work hard to provide you quality water.