What's New in Our World
November 2, 2022 Closed for the Holidays: November 10th the office will be closed due to Veteran's Day
November 23rd, 24th, & 25th the office will be closed due to Thanksgiving
December 22nd, 23rd, 24th, 25th & 26th the office will be closed due to Christmas
December  29th, 30th,31st  January 1st & 2nd the office will be closed due to the New Year
The District wishes all our customers a safe and happy holiday season. We do apologize for any inconvenience this may cause. You may make your payments on-line at www.haydenirrigation.com, via mail ( 2160 W. Dakota Ave ), via phone (855) 984-1193 or a drop box is located in the parking lot that is available 24 hours/7 days a week.
October 19, 2022 Water Tank Up-date: Due to the postponing of piping needed for the tank, the District is anticipating the tank to be operable around November 10th, 2022. Prior to the tanks debut, the District will be chlorinating the tank on the 1st of November. In addition to the following updates, the continued picturesque landscaping surrounding the water tank is provided to the community by the Districts technicians.  The District aims that the above updates are useful to the community. Should further information be needed, contact the District office via phone or email.
October 10, 2022 Sprinkler Shut Off: The District is experiencing a higher demand for water usage for this time of year. While out during routine visits to neighborhoods in our District our field technicians are noticing an abundance of sprinklers still running. Understanding the weather is perpetually warmer then normal, this may trigger you to want to water when it is not necessary. To keep " green" in your wallet, the District is encouraging our customers to shut down your sprinkler systems for the season. The grass is in a state of dormancy. The morning dew and condensation that has been occurring will provide your lawn and landscaping with a conventional amount of water to cover your watering needs.
October 4, 2022 Irrigation Shut Off/ Winterizing Meters: Although our weather is still surprising the community with sensational temperatures, it is time to winterize your meters.  Irrigation shut off will begin Wednesday, October 5th, 2022 and continue through to Friday, October 7th, 2022. The District is requesting that the customers kindly keep the properties' gates unlocked and your pets be put in a safe and secure location.  This will help the technicians "get in and get out" in a timely manner. On the assumption that the District needs access to your meter, at any time, keeping your gates unlocked is ideal to the Districts' time management.
September 21, 2022 Notice of Chlorination: The District will be performing our annual chlorination. The staff will be flushing the chlorine to the end of the system. At that time, we will be starting the new reservoir sanitation process and using the new reservoir once the sanitation is completed. The chlorination will help sanitize the water system and extend the health of the system. This should not change the taste or appearance of the water quality but it may for some customers with a more sensitive palate. If this pertains to your house hold, a helpful suggestion is to purchase bottled/jugged water before hand.  The process will start October 17th. If everything goes fluently, the chlorination should be completed in approximately 2 weeks. The District apologizes for any inconvenience this may cause our customers.
September 7, 2022 After Hour Emergency Calls: Due to the District receiving multiple non-emergent after hours calls the District would like to clarify what classifies as an emergency. If your experiencing a major leak and are having difficulty shutting the valve off or controlling the leak, don't hesitate to contact the District. Additionally if your experiencing no water to your property, not related to non-payment, notify the District. The after hours emergency line is to ensue that our customers are protected and safe at all times. The Districts number one priority is our customers.  Billing, water pressure issues and so forth are not classified as an emergency and you will be charged for the call. Thank you for understanding, if you have any questions please contact the District office during original business hours.
August 9, 2022 Water Conservation: Everyone is enjoying this beautiful summer weather. We all strive for a flourished garden with alluring flowers surrounded by thick, plentiful grass. Unfortunately, with the heat being so unrelenting this task may "take a bite out of your wallet". It may sound preposterous but watering your lawn every other day for approximately 15-20 minutes in the early hours of the day is more profitable for your wallet and your lawn. Over watering your lawn may result in an abundance of unwanted weeds and cause suffocation to your roots which will proceed with stunted roots. If this occurs you will experience yellowing of your grass followed by a fungal build up. Stagnate water/moisture will eventually accumulate invasive insects that could eventually damage your garden and lawn. So with all this being said lets be diligent on our water use and enjoy the rest of the summer.
July 27,2022 Helpful Tips for Backflow Season : As a customer that is in need of your backflow assembly to be tested please make note to these few helpful hints to make next season go as planned. Always request a copy of your passing test, visually see that the assembly has been tagged properly with the testers name and date and verify with your tester that your test is going to be submitted to the proper water provider. Unfortunately there were a few testers that did not submit the tests into the proper provider and/or in a timely manner causing unnecessary tension on you as a customer.  With that being said, once again thank you for your diligence and patience with the backflow testing process. You are greatly appreciated.
July 21, 2022 BACKFLOW! The backflow season is coming to a bitter end. The District would like to take a moment and thank you all for the team work that was put forth to make this season run as smooth as possible. Backflow testing is so important to you, your family and neighbors. Always remember to use your sprinkler and irrigation systems with care. If you have any questions about your backflow tests please contact the office. We are always here to help in any way we can. Enjoy these beautiful warm sunny days ahead and remember to keep you and your land hydrated.
September 20th, 2022 UPDATE on Blue Locater Posts: As stated below, on July 7th, the blue locater markers that are positioned throughout the district can not be removed under penalty of law. This in implemented on the back of the post. Unlawful removal of the locaters will result in financial penalties/ consequences.
          1st Offense Penalty: $100.00      2nd Offense Penalty: $150.00        3rd Offense Penalty: $500.00         4th Offense Penalty: Will result in prosecution
The District technicians have observed multiple indicators being removed during routine visits throughout the district. The blue locaters are to remain stationary for the Districts locating purposes.
July 7th, 2022 Easement Obstructions/Blue Posts: The District is implementing the placement of your trees, bushes and such landscape be planted within the perimeters of the meter. A 10′ foot diameter of the meter is the requirement for the District. This is for the safety of our staff, the well being of your meter and to keep the structure of our water main secured. Ex: If a tree is planted within the diameter of the meter box eventually the roots will spread causing damage to your meter box and may cause you to be without water. Secondly, if an excursion occurs at your meter box this will uproot the tree making it more venerable to fall over, putting our staff at risk of injury. If you have a tree that is in the 5′ radius of the meter you will be asked to remove it. Please see the attached photo of the damage that will be caused to your meter by the roots of a tree.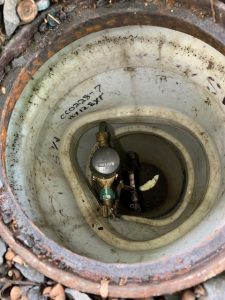 As you may have noticed, our technicians have been placing blue markers around the district. These can not be removed. These are placed to indicate where the water main is located. Sorry for any inconvenience but this is to help the District be more pro-active and time savvy on the location of our water main.
What do you say we talk backflow… Backflow testing is crucial to you, your family and neighbors. Although it may seem like a tedious task, it is beneficial to all in our community. June 30th is the deadline date to have your tests submitted to the District. If you do not submit a passing test by June 30th, and have had your test done, contact your tester. If you do not have your test done by the 30th, be expecting a letter  notifying you of the $15.00 fee  added to your account and informing you of when you must have the test done and submitted in order to avoid additional fees (door tag & lock off fees) and a disruption in service. The State of Idaho takes backflow testing seriously and it is a State mandated procedure. If you have any concerns or questions regarding the backflow process or need verification that your backflow test has been received, please contact the office.
Summer is in full bloom and we are experiencing warm summer weather. With that said, we need to be conscientious of our water usage. The District is still implementing odd-even watering days. Remember, the last number of your address indicates what day you should be watering. Minimizing your sprinkler use keeps more cash in your wallet. Smart sprinkler systems are always a good idea. They give you the ability to monitor your use and inform you when the system is running. Many new systems can even detect rain so you don't water when you don't need to. They new systems are definitely worth considering.
The new 2021 Drinking Water Quality Report is out and can be found on our website under the Announcement and Your Water tabs. Check it out and see how well your District is doing. We have included a link for your convenience. We work hard to provide you quality water.